Specialist formwork cleaning service
Hydroblast is a specialist water jetting company, offering a range of services for industrial-sized businesses, factories and power stations. We offer a professional, fast and safe system for formwork cleaning, using high-pressure water jetting machines, rotating nozzles and hand lances to remove leftover concrete and debris so it is suitable for reuse.
We can supply training for businesses wanting to perform this service in-house. Hydroblast also leases or offers short or long term rental equipment. Should you have a backlog of work, we can send staff to assist you with your formwork cleaning.
Whatever your formwork cleaning needs, Hydroblast can provide an adaptable and personalised solution for your business.
What is formwork?
Formwork refers to the temporary or permanent mould that wet concrete is poured into to create its desired shape. It is widely used within the construction industry, with jobs ranging from creating concrete stairs, to forming circular columns, ground beams, tunnels and walls. In order to support the concrete, it has to be extremely strong, and it can be made from metals such as steel or aluminium.
When companies reuse their formwork panels, leftover concrete can create an uneven surface that affects the appearance of the next structure.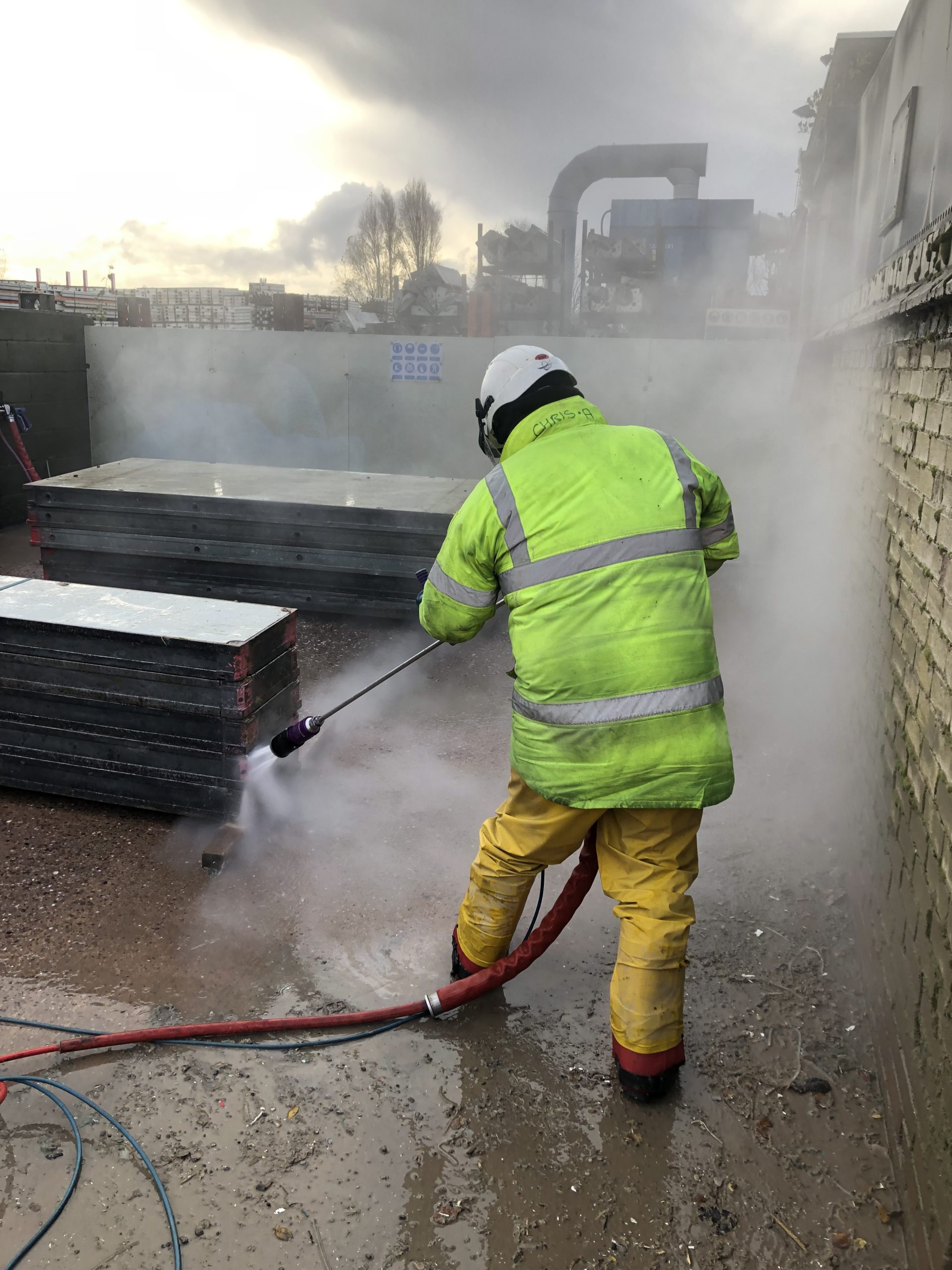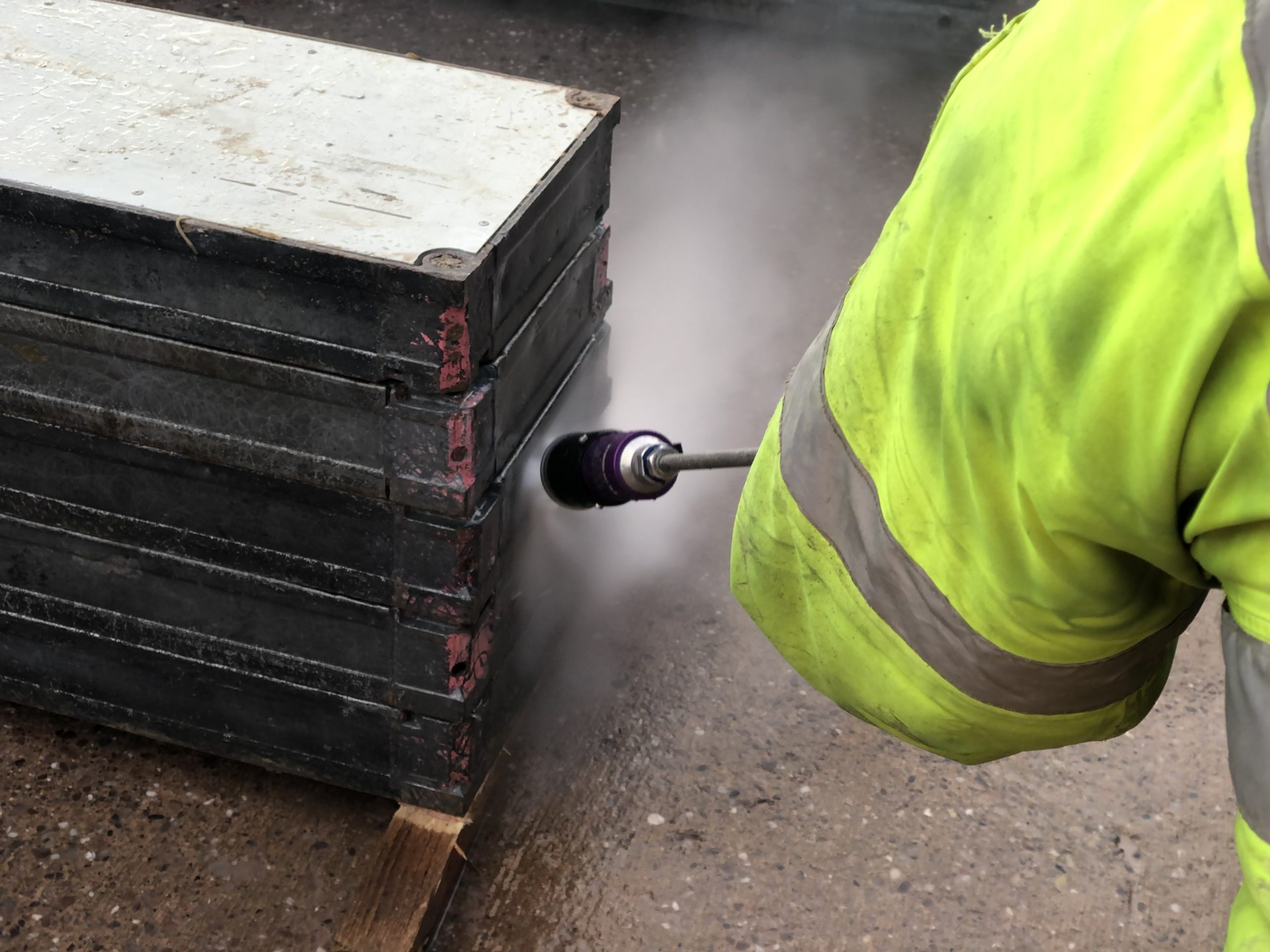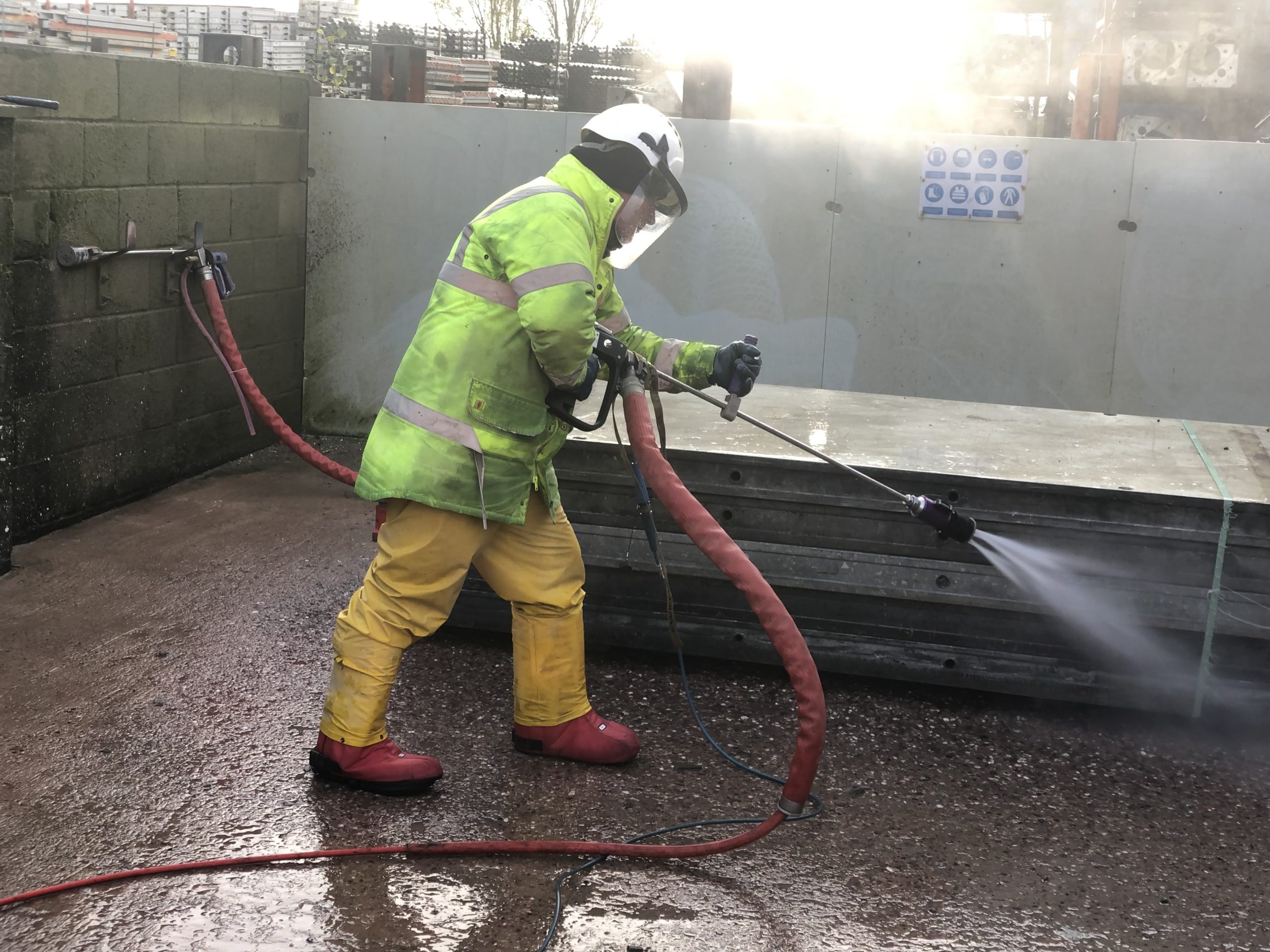 Why is cleaning formwork essential?
Due to the rising demand for concrete and the increasing importance of an aesthetically-pleasing structure, formwork cleaning is becoming more popular than ever. If panels are reused without being thoroughly cleaned, the results can be incredibly unappealing.
Benefits of using high pressure water jets to clean formwork include:
Cost-effective
As purchasing formwork is costly for companies, regular cleaning and reuse is a more viable option. By using high pressure water jets, you avoid any structural damage which could be caused by using chemicals and solvents. This also means avoiding costly bills to repair or replace your formwork.
Safe
Compared to other methods of formwork cleaning, high pressure water jetting is much safer for the operative. Electric grinders and wire brushes are more traditional methods of cleaning, however these are much slower and come at a very high risk.
When concrete is removed, it can release silica dust. This is a cause of serious lung diseases such as silicatosis when it is inhaled. Unlike other concrete removal methods, high pressure water jetting can suppress any dust clouds and keep them away from the operative.
Environmentally friendly
Our formwork cleaning only requires water. Because of this, our process is incredibly environmentally-friendly compared to alternative methods. The use of harsh chemicals could really damage the surrounding environment- something that we can avoid with our advanced water jetting technology.
Efficient
Water jetting allows for a professional, consistent clean with minimal effort. Time is always of the essence and delegating a large period of time to cleaning formwork is not cost-effective. Our high pressure water jetting is highly accurate for targeted results, and the power of the jets allows for a much faster clean than if conventional methods were used.
Training for your staff
Hydroblast offers tailored solutions, designed to suit your budget and requirements. If you would like to perform formwork cleaning in-house, our safety awareness training will provide your staff with the all of the necessary skills, knowledge and certifications necessary. This covers all water jetting activities, and we will offer vital information on how to get the most from your machine. Renewable every three years, this course is performed by a Water Jetting Association approved instructor so you can be assured that your training will adhere to industry standards.
Formwork cleaning equipment
Hydroblast are able to travel to your site with the necessary equipment to clean your formwork. If you prefer, we can also hire equipment to your business on a long-term contract. This involves a monthly fee, and we can either travel and service your formwork when required, or you can perform your cleaning in-house. Our long-term contract doesn't include wearing parts such as pumps, hoses, guns, lances, water filters and rotating nozzles, however we can offer these at an additional cost when required.
Hydroblast also supply personal protective equipment (PPE) including helmets, foot protection, and TST suits that are specifically designed for protecting against the effects of high pressure water jets. These suits are made from Kevlar, the same material used in bulletproof vests.
Get in Touch...
Hydroblast Ltd. offer a full 
formwork cleaning service
. Our specialist equipment is operated by fully trained staff, who have experience in cleaning all types of structures. Additionally, we offer scaffolding and metal cleaning that can help to extend the lifespan of your poles and scaffold board decking.
If you would like get a quote, or just some advice, contact Hydroblast directly.