Aquajet Ergo Go – the ultra-compact hydrodemolition and cleaning system
Hydroblast's Aquajet Ergo Go water jetter is very well named. Because it is designed to go into confined spaces that other water jetting systems just cannot reach.
We make sure we can provide water jetting services that deliver the best solutions in all environments, and that includes where space is at a premium. The Aquajet Ergo Go is an important tool in our armoury to allow our trained and qualified operatives to work safely in these constrained spaces. Its compact capabilities deliver key advantages. The Aquajet Ergo Go can be operated in small spaces or on surfaces with an irregular shape. The system allows us to carry out hydrodemolition or cleaning operations without the need for hand lance water jetting which, especially in confined spaces, exposes operatives to multiple risks.
In fact, our Aquajet Ergo Go is allowing us to carry out high pressure water jetting in ways previously not possible, extending the advantages our clients can gain from the process.
Hydroblast's Aquajet Ergo Go – the benefits
Ideal for hydrodemolition, surface preparation or cleaning in highly constrained space.
Quick to set up ready for operation – maximising productivity so our clients' projects can be completed more quickly.
As a robotic water jetting system, Aquajet Ergo Go allows our operative to stand away from the machine, enhancing safety.
Avoids the need for mechanical demolition with hand tools which present significant hand arm vibration risks.
Flexible operation – the Ergo Go can be used for a range of tasks, including hydrodemolition, surface preparation and cleaning.
It's designed to operator on simple scaffolding polls, making site preparation and set-up easy.
As with Hydroblast's hydrodemolition systems, it is more precise than mechanical concrete removal, including no damage to steel rebar and other surfaces that need to be retained.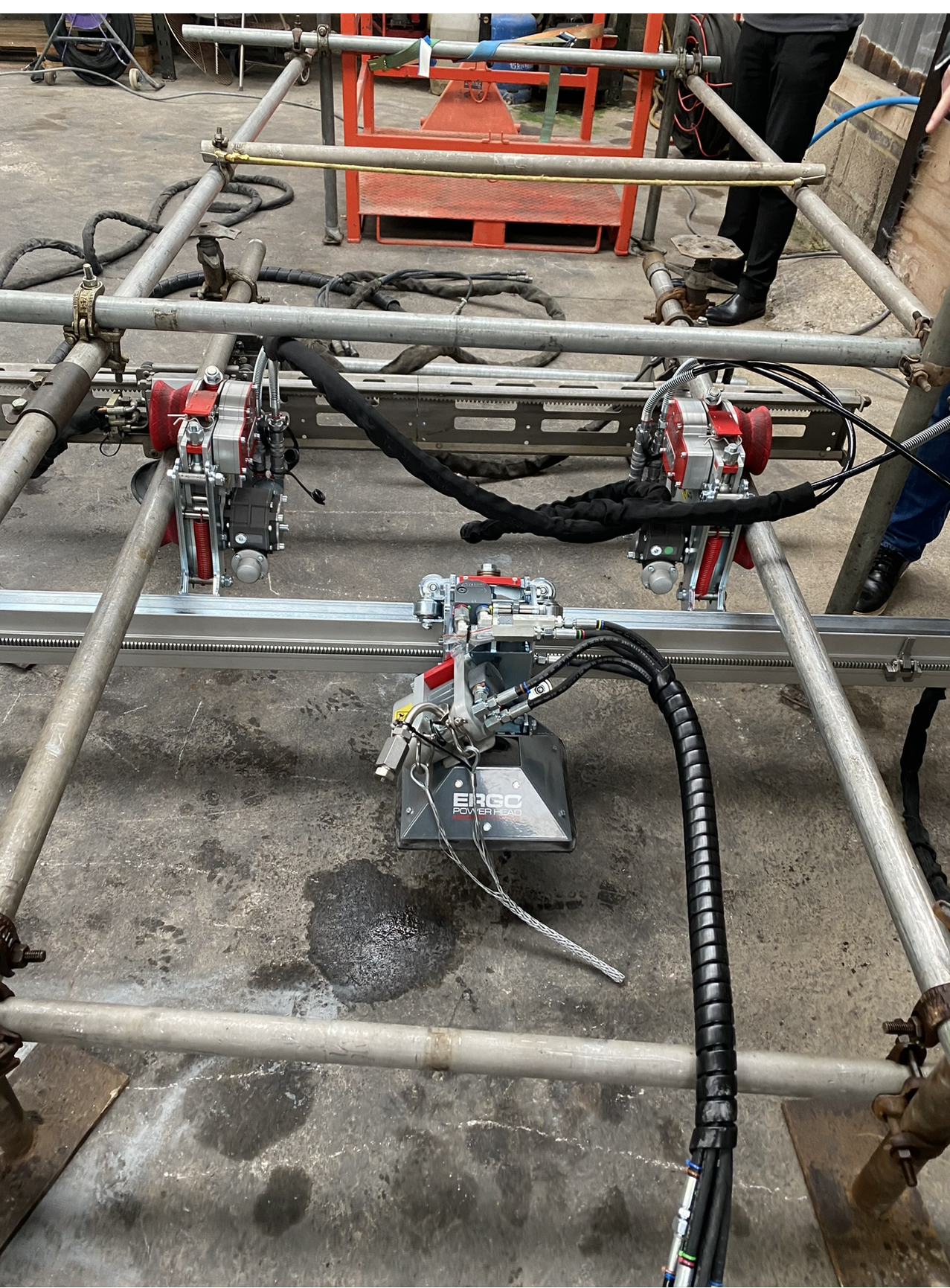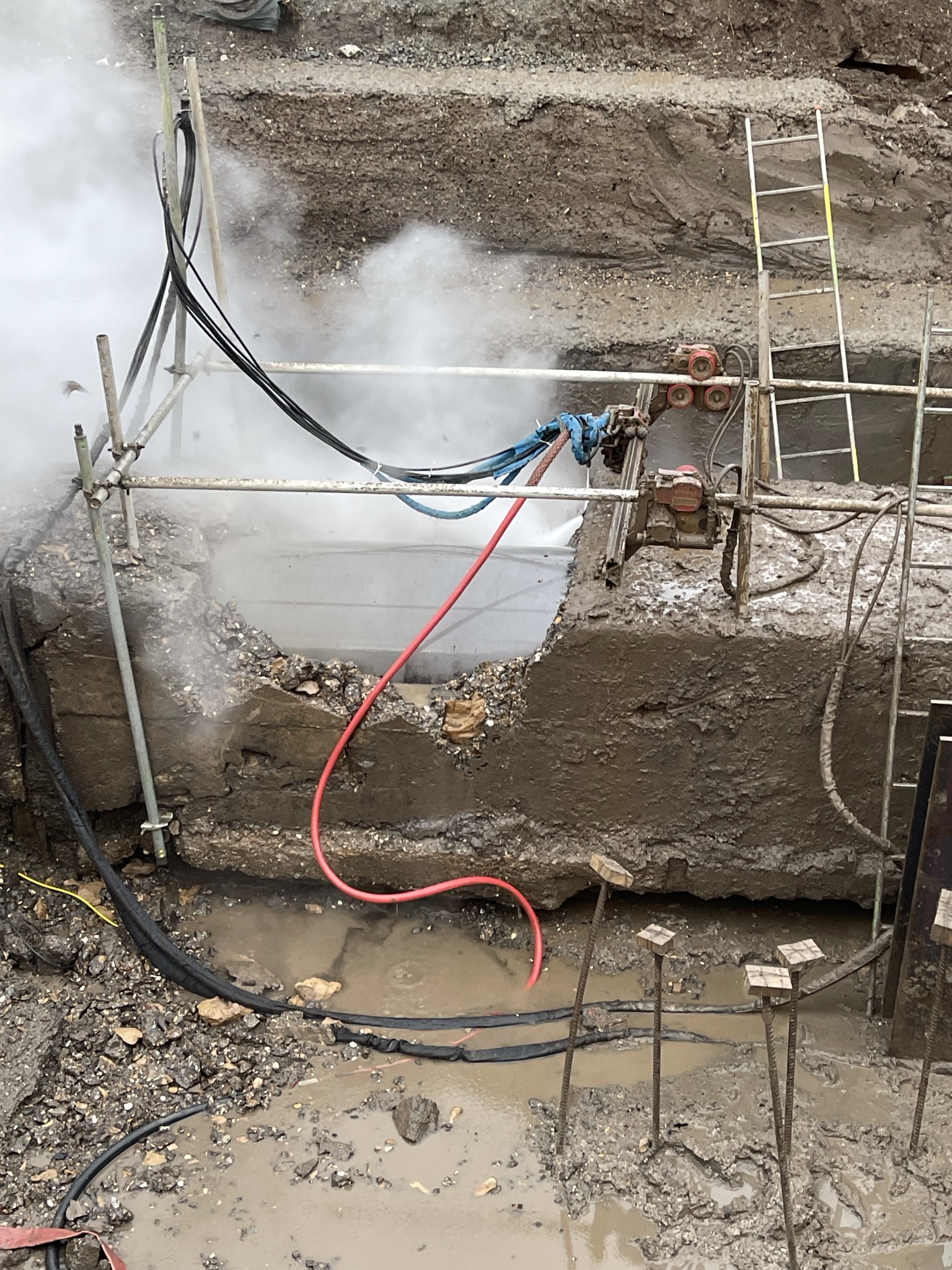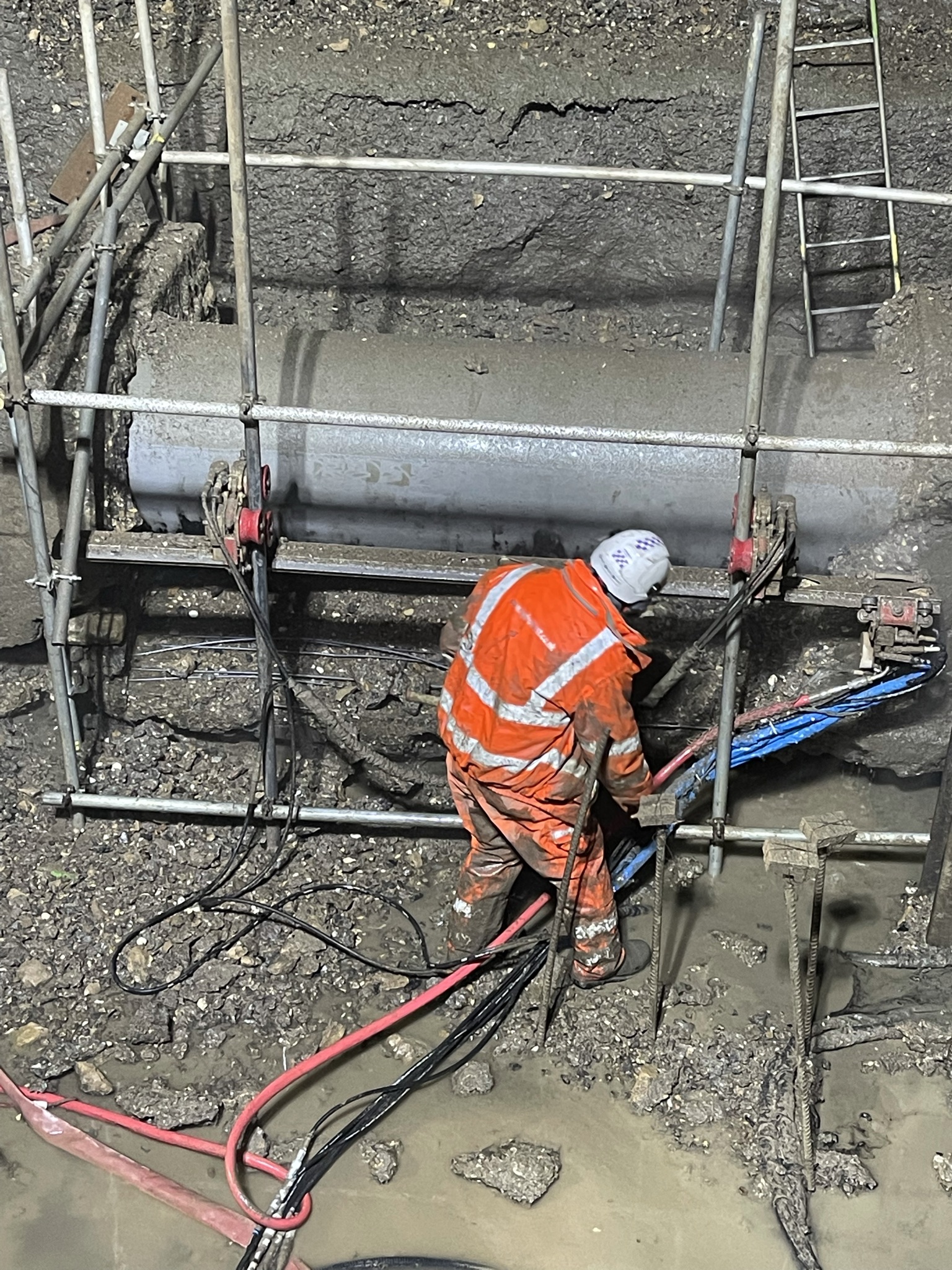 Operational advantages of the Aquajet Ergo Go
Fast equipment set-up
The Aquajet Ergo Go's modular design means it is quick for our water jetting operatives to set up and get work. With less downtime, productivity is maximised.
Wireless remote control
The Aquajet Ergo Go's wireless remote control contributes to Hydroblast's ability to use the water jetting system in the most confined spaces, while our operator stands in the best position for optimum performance and safety.
Improved hydrodemolition safety
Thanks to its compact design, our Aquajet Ergo Go is designed to more effectively do work previous carried out by hand lance water jetting.
This means hydrodemolition tasks can be carried out more safely, contributing to our client's zero harm health and safety strategies.
Flexible operation
The Ergo Go is designed to complete a range of tasks and meet the many challenges we face on site. Its power head can be moved through 90 degrees for the most effective performance, while lance oscillation is adjustable.
The equipment is just as capable at cleaning and surface preparation as it is for concrete or refractory demolition, so multiple water jetting tasks can be completed.
Also, its working width of between 0.25m and 2m, the Aquajet Ergo Go confirms its credentials for working flexibly in the all types of spaces.
Key Sectors
Hydroblast's Ergo Go water jetting systems are in demand across the UK to complete hydrodemolition and cleaning tasks in a variety of industrial sectors, including:
Bridge hydrodemolition and repair
Highway flyover hydrodemolition and repair
Reinforced concrete removal
Furnace refractory removal
Combustion chamber refractory removal
Recycled asphalt pavement (RAP) process plant cleaning
Marine pier hydrodemolition
Wall and foundation hydrodemolition
Marine barge defouling
Ship defouling
Technical Data
Working width – 0,25-2,0m
Max length between supports – 2,0m
Min clearance height – 320-500mm (depending on bracket type)
Roller beam lengths – 0,25 / 0,5m / 1,0m
Lance angle – ±45°
Oscillation steps – 8° / 22mm and 14° / 42mm
Transport boxes – 1100x355x400 mm
Climber weight – 22kg
Power Head weight – 21kg
Roller beam weight – 9,5kg/m
Controller weight – 98 kg dry, 124 kg with oil
Max reaction force – 1000N
Parallel drive – ±2%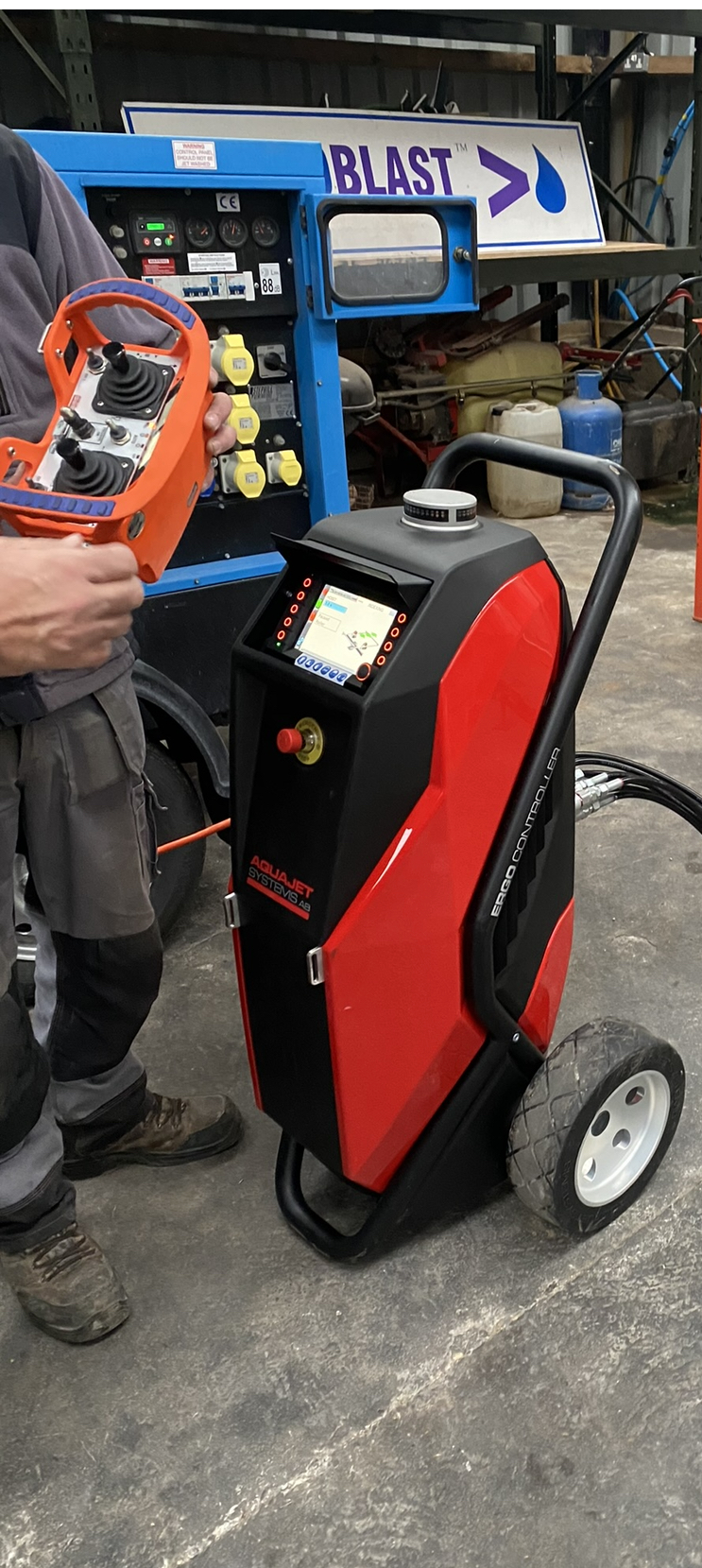 Get in Touch...
If you are unsure about whether the Aqua Cutter 410A Evolution would be suitable for your task then don't hesitate to contact us as we are pleased to offer helpful advice for your unique situation. Call us on 01677 428 786, email us at sales@hydroblast.co.uk or fill out the contact form below. We look forward to hearing from you.