Outstanding Hydrodemolition Performance: Our Unique Selling Points
We are a leading hydrodemolition robot aqua cutter contractor and re-sales agent, and we pride ourselves on the unique qualities we are able to offer to our clients.
Amongst these qualities is the fact that we are the only Robot Aqua Cutter Contractor based in Yorkshire, which gives us a great location for working with clients from all over the country.

The Equal Distance System (EDS) is undoubtedly the most important invention which has contributed to the hydrodemolition industry. EDS not only increases productivity and produces a much higher quality of work than other techniques, it also saves energy, resulting in saved money and a more environmentally friendly way of working.
Our innovative Aqua Cutter robots are so effective because they use the EDS lance movement system. When the water leaves the nozzle, it quickly loses its power; this is why it is vital to keep the water jet as close to the surface as possible, in order to produce maximum impact. The EDS enables the water jet to focus its power where it is really needed.
Removing concrete above a rebar is a comparatively easy job, in contrast to the task of removing it below the rebar, which can prove to be difficult.
When using the EDS, the robot can angle the water jet as much as 45 degrees to each side. As this is an extreme angle, the maximum amount of concrete will be removed from the rebar. The EDS allows superb performance and will remove all the unwanted concrete quickly. The EDS also enables excellent control over the tip of the lance and maintains a consistent distance from the surface of the concrete.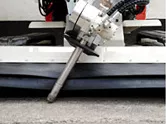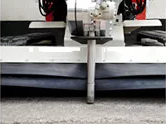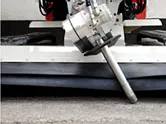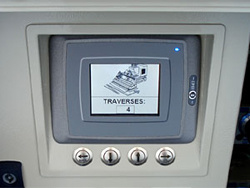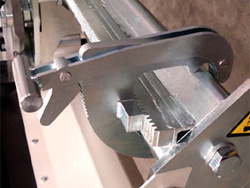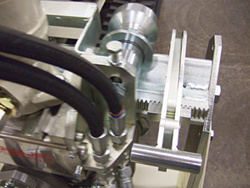 ISC – Intelligent Sensing Control
The robot is operated through an onboard computer. This means that the work is very safe, as a human operator is not directly involved in the process, and ensures great control and efficiency.
It also makes the work simpler and easier, as there is no need for an operator to perform the same repetitive movements over and over again.
Cutting Into Corners
When using the Aqua Cutter robot, the water jets will only need to pass over the surface once.
This robot has unbeatable versatility and is capable of reaching into deep corners and up walls with ease – no need to adjust the machinery or use tiring, inefficient hand lances.
This is down to the removable sides on the front cover and the EDS system, which allows greater freedom of movement.