Robotic hydrodemolition passes Belgian refractory removal test
Robotic ultra-high pressure hydrodemolition carried out by Hydroblast has proved to be the most productive and safest way to remove refractory from a waste to power plant in Belgium.
The owners of the energy plant in Liege agreed to Hydroblast carrying out the work after seeing its web videos of other refractory removal projects, via social media, and being impressed with the results.
A team from the water jetting and equipment hire specialist in Northallerton, North Yorkshire, United Kingdom, completed the refractory removal to the high performance specification expected in 36 hours.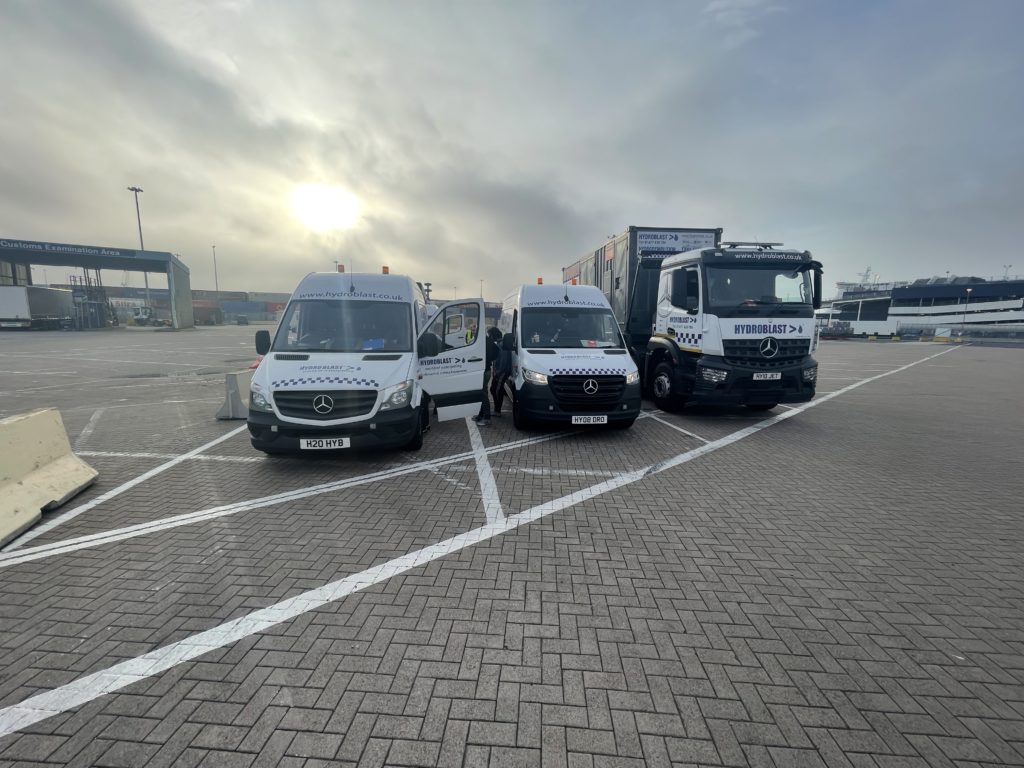 Hydrodemolition success
Hydroblast Operations Director Ross McDonald said: "This is just the latest project we've carried out that has demonstrated how hydrodemolition is a very efficient and effective method for removing refractory from combustion chambers.
"The waste to energy plant owners wanted to use this project as a trial having not seen hydrodemolition carried out in any of their plants. When they saw the results, they concluded it had passed with flying colours, which was an excellent outcome."
"They could see for themselves that robotic hydrodemolition delivered high quality and fast results, with reduced health and safety risks, compared with conventional mechanical refractory removal."
Fast refractory removal
Hydroblast deployed a team of skilled, experienced and WJA-trained water jetting operatives on the project, travelling to Rotterdam, in the Netherlands, by ferry, then driving down to the site in Liege.
The team used an Aquajet Ergo ultra-high pressure jetting frame operating at 2200 bar (32,000 psi) with a water flow of 90 litres per minute to remove the refractory, a highly heat resistant material used to line the combustion chamber.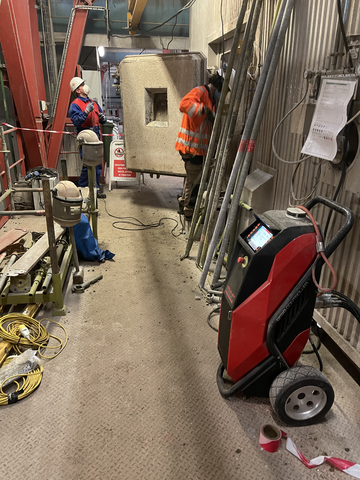 Hydroblast removed a total of 30m2 of refractory removed from the chamber wall. The hydrodemolition work was completed in three 12-hour shifts, with continuous day-night operation, plus a standard 8-hour set-up and take-down shift.
  What is refractory?
Refractory is a material that is highly resistant to decomposition by heat, pressure, or chemical activity. Tellingly, for power generation, refractories retain strength and form at high temperatures (commonly over 1,000 0C.
They are usually non-metallic and made from ceramic-based materials. As well as being used in waste to power plants, refractory is used in kilns, furnaces, reactors, crucibles and moulds for casting metals.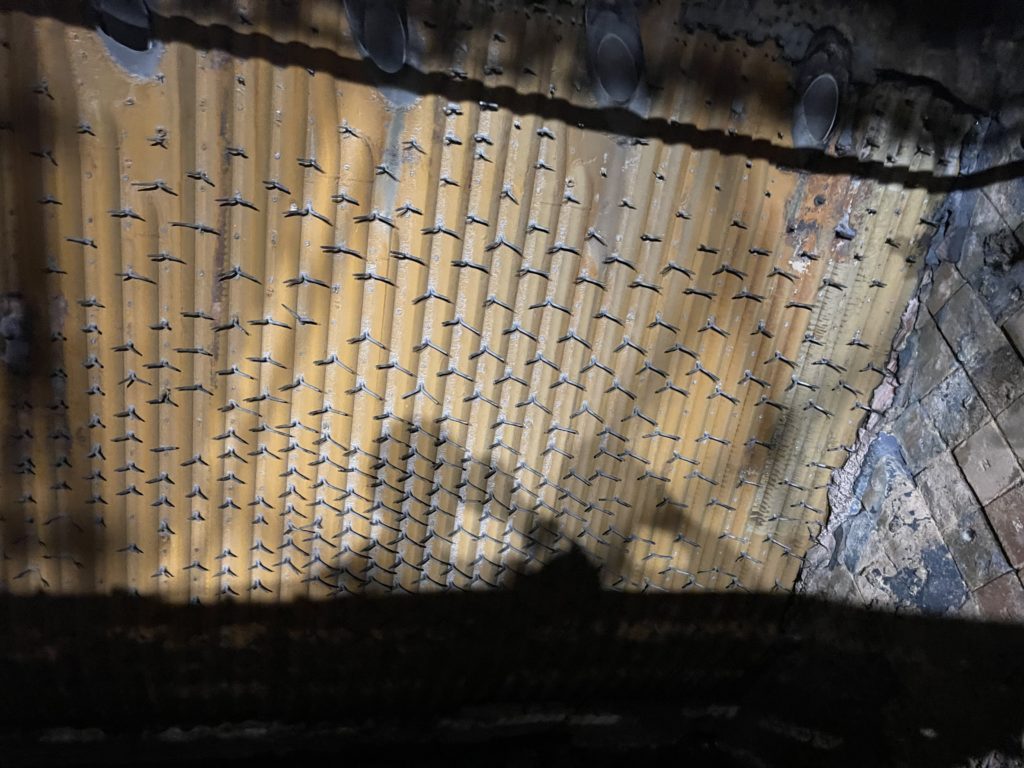 Hydrodemolition process
As with most refractory removal projects completed by Hydroblast, its team was given a very limited window to work in. Because waste to power generation is a continuous process, downtime for key elements of the process must be kept to a minimum.
The Hydroblast team knew it was in a race against time to remove the refractory which has to be replaced at regular intervals as the very high temperatures in the boiler unit degrade its effectiveness.
The combustion chamber was 9m long. The ultra-high pressure water jetting frame has a maximum working width of 3m. This meant the entire chamber wall could be cleared of refractory with three resets of the frame.
Hydroblast's client, an engineering maintenance contractor, had erected scaffolding to Hydroblast's specification. The Aquajet Ergo frame was attached to this scaffolding with the water jets located 50mm from refractory surface.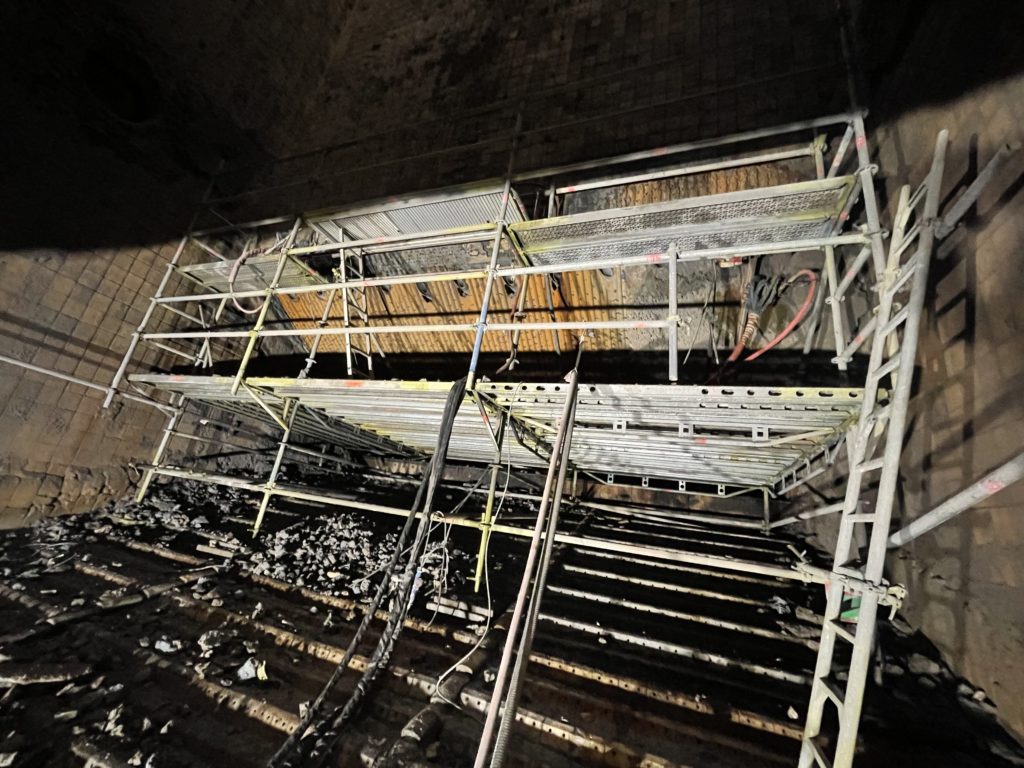 This was the optimum distance to allow the water jets to break through the layer of refractory, which was between 70mm and 100mm deep across the wall.
A hand-held jetting lance operated at 2800 bar (40,600 psi) was also used to remove a smaller amount of refractory on a curved section of wall where it joined an angled ignition roof.
Waste water from the process was flushed through the combustion chamber hoppers into holding tanks where it could be collected by a jet vac tanker and taken for safe disposal at an authorised site. 
Robotic water jetting – the advantages
The conventional method for removing refractory from furnace and combustion chamber walls is to use mechanical tools, such as jack hammers.
Robotic and hand-held lance ultra-high pressure hydrodemolition has key advantages over this mechanical process.
It causes significantly less hand-arm vibration risk so is safer for the operatives. In terms of robotic water jetting, this risk is completely eliminated.
Hydrodemolition causes significantly less dust contamination which is also a health and safety advantage.
Water jetting greatly reduced the risk of damage to underlying chamber walls and other structures.
Water jetting is a more thorough process with more of the refractory being removed.
The hydrodemolition process is also usually significantly faster than mechanical refractory removal.
Ask us about using water jetting for refractory removal
Contact Hydroblast today to find out more about more about ultra-high pressure robotic water jetting refractory removal. Call 01677 424542. Email sales@hydroblast.co.uk